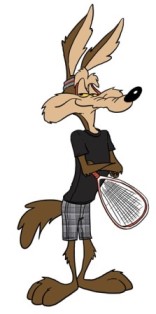 smart racquetball
Hi, I'm Rocco - and I love racquetball!
As a kid, I went to tournaments with my dad. Watching his opponents warm up in the court, it was often evident that they were stronger, faster, and more athletic than he was. And Dad knew it. But he typically beat them anyway. Because Danny Vega was one of the smartest players in the game.
Racquetball is fun - but it's even more fun when you win. Staying in shape, drilling, and being around the game are important - but playing smart racquetball is usually what will get the win.
Using what I've learned from the USAR Instructor's Program - and taking lessons from some of the game's greatest teachers, such as Fran Davis, Gary Mazaroff, Fred Johnson, and of course, my dad - I hope to share the simple genius of how to play smart racquetball.